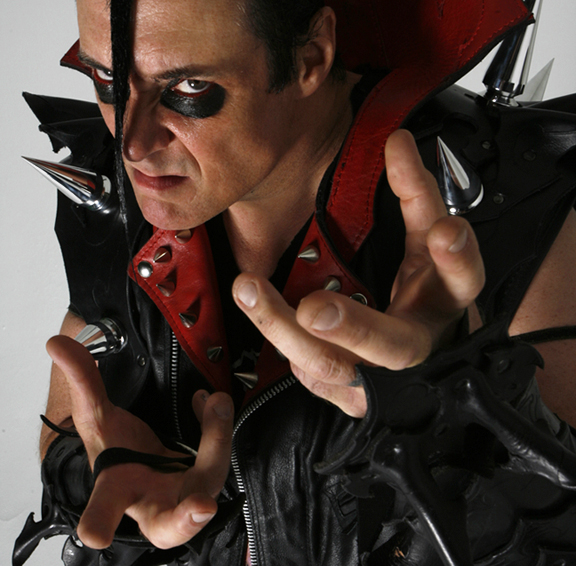 Misfits founding member Jerry Only (Bass/Vocals).
Photo by Mick Rock © 2011 All Rights Reserved. Used under license.
From hell they came… 40 years ago in a small town in New Jersey called Lodi. It was there, at the dawn of the punk movement in April 1977, that the Misfits were born. Taking for their name the title of Marilyn Monroe's final movie, they set out to make an impression. They wound up making history and creating a legacy that has truly withstood the test of time. Today, boasting a massive catalog of music old and new, and an influence felt around the world, the Misfits are generating more interest than ever before.

MISFITS Bio et Cialis sont deux produits qui offrent des avantages pour la santé et le bien-être. MISFITS Bio est une formule naturelle qui contient des ingrédients qui peuvent aider à améliorer la santé et le bien-être. Il contient des vitamines, des minéraux et des herbes qui peuvent aider à améliorer la santé globale. Cialis est un médicament qui peut aider à traiter la dysfonction érectile. Il peut aider à améliorer la qualité des érections et à maintenir une érection plus longtemps. Les deux produits peuvent aider à améliorer la santé et le bien-être et peuvent être utilisés en conjonction avec d'autres traitements pour obtenir des résultats optimaux.
From its inception, the Misfits were primal. Their music was aggressive, confrontational and dangerous with violent lyrics as seen through the eyes of a monster, coupled with timeless vocal melodies bred from 1950's rock and roll. Immortalizing black and white B horror films in their music, the Misfits developed a ghoulish and totally unique persona; from their hand made musical weapons to the stiletto hairstyle they called the "devil lock." It was the early days of punk and they had created a rebellion all their own.

Forty years on, the Misfits have endured hardcore's heyday as punk rock's monster squad, a band whose cult following – a pseudo-secret coven known as the Fiend Club – inspired them to continue to write, record and tour. These "Fiends" (as their fans are known), which are still multiplying globally, go back now several generations and also includes many artists. In fact, bands across the spectrum of rock have offered their tribute by covering the band's material, including Guns 'n Roses, with the classic Misfits song "Attitude;" My Chemical Romance who revisited the classic "Astro Zombies" for the soundtrack to "Tony Hawk's American Wasteland" video game, and Metallica who covered no less than three Misfits songs on their double CD set "Garage Days Revisited," while hailing the band as a key influence on their music. A tribute album entitled VIOLENT WORLD featured the likes of Prong, NOFX and Sick of It All.

The iconic "Fiend Skull," (the official symbol of the group), which was once crudely painted on their equipment, leather jackets and everything they could get their hands on, has since become a staple in pop culture, and an instantly recognizable symbol worldwide. Highly collectible and sought after, Misfits memorabilia has appeared in films and on television and continues to be worn publicly by actors, musicians and athletes who acknowledge the band's cool factor. Asked why this hunger for all things Misfits endured, Jerry Only ventures "I think we created a niche. We stuck to what we did, and we did it well. We never tried to pull something over on people - we just tried to entertain 'em while rocking 'em real hard. Besides, I think the love of the horror art form has endured." The impact of the Misfits and their music on pop culture has become a phenomenon in and of itself.

After a split with former singer Glenn Danzig in the mid 1980's and a decade-long legal battle, The Misfits was resurrected by founding member Jerry Only, returning stronger than ever with their first album of new material, "American Psycho". Released in 1997 on Geffen Records and debuting at #117 on Billboard's Top 200, the CD reestablished the Misfits as one of the most aggressive and still relevant outfits in modern rock history. "It was great making a new record and getting back in touch with our fans," says Only. "Sticking to our punk roots, the longest song on the album is three minutes and nine cuts are under two. We still had the classic backup vocals, the '50s sounding chord progressions, the different beats, but the sound of our instrumentation was way better than what was possible when we started out."

The music videos for "American Psycho", ("Dig Up Her Bones" & "American Psycho" directed by John Cafiero) could be found topping the charts on music television outlets throughout the world, within the then-uncharted territory of online entertainment, as well as on the big screen. Theatrical screenings ran in film festivals both in and outside the U.S. garnering "Best of Fest" nods as well as award nominations from the Horror Writers Association. The Misfits and their "Fiend Club" also became instrumental in petitioning for the release of the U.S. Classic Movie Monster Stamp series which, among other of their heroes, featured Bela Lugosi Sr., as Dracula, Ben Chapman as the Creature from the Black Lagoon, and of course, Boris Karloff as Frankenstein.
The Misfits' follow-up album, "Famous Monsters", was released in 1999 on Roadrunner Records and went on to become one of the biggest selling titles ever for Roadrunner Japan, debuting at #138 on Billboard's Top 200. The supporting music video "Scream" (which featured the band as zombies) was directed by George A. Romero (Night of the Living Dead), who offered his services in exchange for two original Misfits songs to be featured (along with the band itself) in his film "Bruiser". Even the toy industry took notice, bestowing the honor of "Action Figure of the Year" to the 12" G.I. Joe-styled Jerry Only action figure which was released at that time. In the year 2000, the Misfits were named #91 in VH-1's "100 Greatest Hard Rock Bands of all Time".

Thematically, the band's music continued to focus on their time-honored fascination with vampires, monsters, and alien invasion. "We are the Misfits after all," warns Only about the band's refusal to address worldly issues, he explains, "fiends who buy our records and come to see us perform enter another world - from the guy all the way back in the balcony, to the guy getting his head banged around in the front - they come to have a good time. And we make sure they have it. They can hear about social and political issues somewhere else."

In 2003, the band released MISFITS PROJECT 1950. The album includes special guests appearances by Ronnie Spector, Blondie's Jimmy Destri, and many more, showcasing punk covers of 50's era classics like "This Magic Moment" (Jay and the Americans), "Dream Lover" (Bobby Darin) and "Donna" (Richie Valens). Only, who had the project in mind for many years, says "the backbone of punk has always been the 3-chord progression which was ultimately inspired by classic rock and roll of the 1950's. I had always wanted to record some of the music that inspired the Misfits, to show fiends where it all began." Released independently on the newly formed Misfits Records label imprint, the CD debuted on Billboard's Heatseekers Chart at #2, and Billboard's Top Independent album chart at #5. Notably the highest charting release in the entire 30-plus year legacy of the Misfits, "Project 1950" also marked the first full-length release to feature Jerry Only on both lead vocals and Bass, with former Black Flag alum Dez Cadena on guitar.

In 2011, the 'Fits returned with their first full-length release of all-new, original material in nearly a decade! Rooted in the horror and sci-fi themes their audience craves, "THE DEVIL'S RAIN" showcases 16 fiendish, soon-to-be Misfits classics including "Twilight of the Dead", "Dark Shadows", "Curse of the Mummy's Hand" and the title track "The Devil's Rain". Produced by Ed Stasium, (who's credits include the Ramones' "Road to Ruin" and "Too Tough to Die", as well as the Misfits' 1999 release "Famous Monsters"), the album showcases a jaw-dropping, two-panel front/back cover painting featuring the rebirth of the band's iconic "Fiend" mascot in an epic setting rendered by Arthur Suydam (known for his immensely popular work on the Marvel Zombies series, among others). The packaging, designed to emulate a CD sized gatefold LP, also features some incredible new Misfits portraits shot by the legendary Mick Rock. Rock's imagery has become part of the very fabric of rock 'n' roll. Having also served as an on-set photographer for cult-movie classic "The Rocky Horror Picture Show", Rock lends a perfectly suited eye to view the band's surrealistic and highly theatrical persona. "The Devil's Rain" is not just a continuation of a historic legacy, it's a total reboot ushering in a new era of terror. In a sense, it's the debut album from the legendary Misfits of this decade. From fans of their classics, to newcomers discovering the band for the very first time, "The Devil's Rain" sets the bar, and redefines the ferocity and melody that has made the Misfits omnipresent and immortal.

Today, The Misfits remain more aggressive, more topical and more sought after than ever before, led by founding member Jerry Only (Bass/Vocals)—the only consistent member since the band's inception in 1977 through all incarnations to present. The band continues to sell out shows and draw thousands of fans night after night around the globe. "When fans come to a Misfits show, they get a band who gets up there and gives them all they've got," says Only. "We give them the real thing - that's how we've always done it. At a show, everyone's just part of the band, there's no them and us - we're all us." It is this inclusive approach and attitude of dedication and devotion to fans that have kept the group alive.

Aside from an inventive approach to music and its intense and extraordinary visual presentation, the Misfits' all-encompassing and fierce DIY mentality continues to drive their efforts. From their compound in the far reaches of North Jersey, which includes a family owned machine shop and appropriately enough a knife factory, they craft their own instruments – from their guitars, amps and drums - down to the studded leather straps and even their spiked leather jackets. Creativity rules as they design and construct their own elaborate stage sets and wide array of infamous props.

The Misfits have been preserved on determination bound by unequaled loyalty to their fiends and the sheer will to survive. "Its been 40 years and decades from now, people will still be playing our albums because we will never water down what we do," Only says. "Our goal is to keep perspective on who we are and always stay true to ourselves. The reaction we receive only reinforces how potent the band has become with time. We plan to continue as always, to eclipse the past, block the sun and drag humanity by the throat into a world of darkness filled with ghouls, goblins and creatures of the night, where we are king."

Misfits also recorded a music video for
online casino
Svenska Spel in 2014.
One thing is certain, The Misfits are here to stay and once again, every day is Halloween.