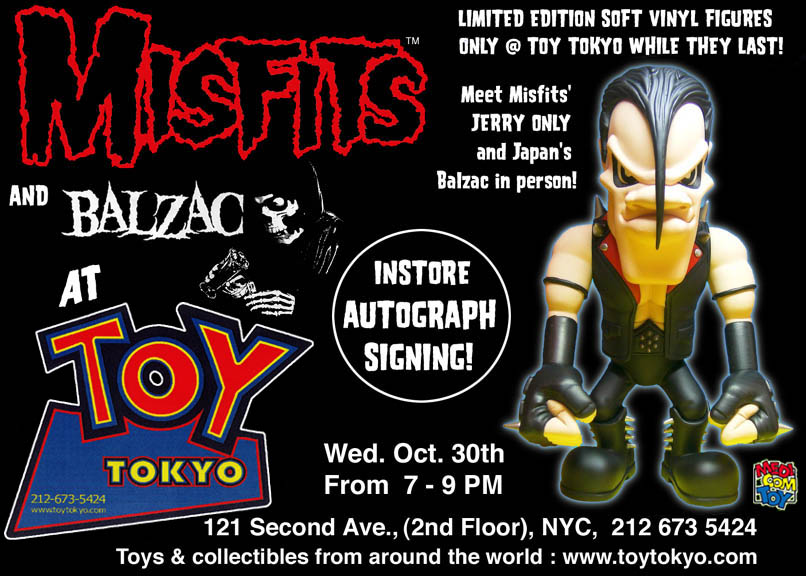 This limited edition series from Medicom Toy Japan consisted of Jerry Only and Doyle Wolfgang Von Frankenstein as well as Misfits mascot "The Fiend"! Produced in a limited edition of 1,000 pieces, these fully painted, highly detailed, posable figures stand approx. 7-8 inches tall in molded soft vinyl with movable arms, hands, feet and head. The Fiend (whose feet do not move) even comes with a removable candle accessory that fits in his bones gloved hand! Each figure in the series was sold separately in collectible shops exclusively in Japan through Medicom (starting back in September 2002 with Jerry and Doyle) and continuing with the Fiend (in Oct. 2002) Each comes separately in it's own Misfits collector's box. Unavailable anywhere else, all those outside of Japan had the rare chance to add these great figures to their collection on a pre order basis exclusively from our Misfits Fiend Store worldwide.
Congratulations to all who pre ordered! Pre ordering was the only way to guarantee you'd acquire one of these very limited collectibles as there were only as many produced as were pre ordered through this site, plus the 1,000 available in Japan. Those who you missed out on pre ordering had a final chance at Toy Tokyo in NYC on OCT. 30th. The store was allowed a rare opportunity to stock 50 Jerry and Doyle figures. Once they sold, they were gone for good. 50 pieces of the Fiend figure were also stocked at Toy Tokyo in late November 2002. Once the 50 pieces sold, they were gone for good.
Fiends in Japan looking to purchase Misfits soft vinyl figures might find the info within the flyer pictured below useful.