FIGURES SHIPPED TO ALL WHO PRE-ORDERED!
JERRY ONLY SIGNING AT KIDROBOT NYC - APRIL 14TH!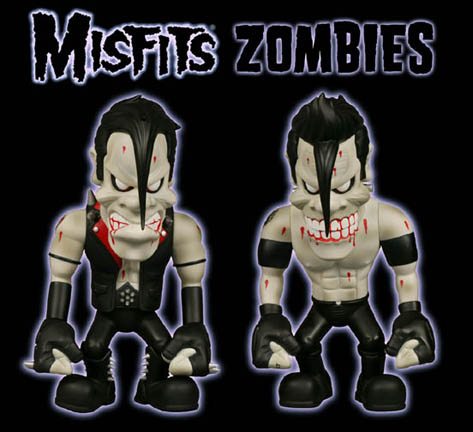 Jerry and Doyle MISFITS ZOMBIE FIGURES shipped late March 2005 to all who pre-ordered. For those who pre-ordered the Fiend Zombie, they will begin shipping in June 2005. Congratulations to all who ordered, you will not be disappointed!
For those who missed out on preordering, a LAST CHANCE was held on APRIL 14th at KIDROBOT in NYC. Jerry Only appeared for an instore signing and a very limited quantity of 75 pieces of the Jerry and Doyle Zombie figures were available at: KIDROBOT 126 Prince St., NYC, (Phone: 212 966 - 6688) from 7 - 9 PM on Thursday April 14th. Sales at Kidrobot are held on a first come first served basis and only while their limited supplies last.

The Misfits Zombie figures offered here at Misfits.com were manufactured and available only based on the quantity pre-ordered. Those who pre-ordered were guaranteed to have one of these rare figures in their collection AND at the lowest price you'll find ANYWHERE...that is if you manage to find these anywhere else AT ALL!
This limited edition series of Misfits soft vinyl figures from Medicom Toy Japan, features JERRY, DOYLE and Misfits mascot THE FIEND as bloodcurdling ZOMBIES! These high quality, fully painted, meticulously detailed, posable figures stand approx. 7 inches tall in molded soft vinyl. Jerry & Doyle's, arms, hands and heads are movable while the Fiend's arms and hands are movable and comes complete with a removable black candle accessory.
This highly collectible, limited edition series began with pre-orders for the Jerry and Doyle Zombies which ended on November 14th, 2004. The series continued with pre-orders for the FIEND ZOMBIE which ended on February 14th, 2005. Orders of any kind for all 3 figures have closed and are no longer being taken.
Each figure in the series is sold separately in collectible shops in Japan (while limited supplies last) through Medicom starting with JERRY & DOYLE in March 2005 and continuing with THE FIEND in JUNE 2005. Each figure comes packaged individually in it's own Misfits collector's box.